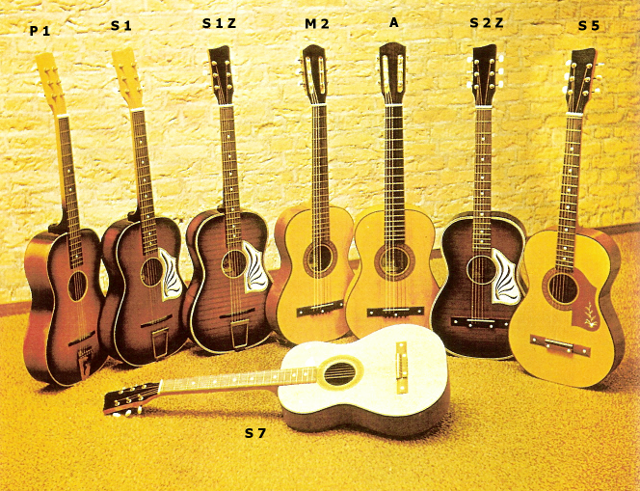 The Egmond

Toledo

series in the 1968 catalog.
The

Toledo

series were the cheapest guitars that Egmond ever made and they were considered being student, or beginners, guitars. The body sizes were 3/4, or also called Parlour size. The

Toledo

series came on the market in the early (or mid) 50's and they were made until 1974.
Along the way, the conventional name has varied
. In the beginning it was the

G 105

series, where the cheapest (and most common) model was the

G 105/0

, that corresponds to the

Toledo P1

or

Student

in the 1969 catalog. The Toledo P1 and the Toledo S1 are almost identical. The main differece is the tailpiece. The most lavish and expensive model was the

G 105/4

, that corresponds to the

Toledo M2

in the 1969 catalog. The

Toledo S2

and the

Toledo S5

appears the same, but the

Toledo S2

is a cheaper variant with the whole body made of Birch ply, with the sides, back, neck and headstock colorized as Mahogany. The

Toledo S5

, however, had both the back and the sides made of Mahogany, the bridge and the fretboard made of Rosewood, the neck made of Maple and the top made of Spruce, just like the Toledo M2.

On the British market, The Egmond 105/0 was named Rosetti 276.

In 1956 George Harrison begun playing on an
Egmond 105/0
, that in the UK was marketed as the
Rosetti 276
. In 2003 his guitar was sold at an auction for

£276000:-
.
I have four guitars in the Toledo series. Here I show you the Toledo S1 and the
Toledo S2
.
It is not that easy to determine the precise year of manufacturing
but a well reasoned guess is the time period from
1968 to 1974.
The previous owner, of my Toledo M2, bougt the guitar new in a music instruments shop. It was used only for a short period of time, right after it was bought. Then it has not been used at all, so it is as good as new, in mint condition.
The guitar body is 440 x 320 x 75 mm ( 17
¼
" x 12½" x 3" ).

According to the 1973 price list, a

Toledo P1

costed

55:- (NLG)

,
a

Toledo S5

costed

73:- (NLG)

and a

Toledo M2

costed

88:- (NLG)

.
At the time,

16:- (NLG)

was approximately

$4:-

and approximately

£1:-

.